In Kiev remembered the dead in all wars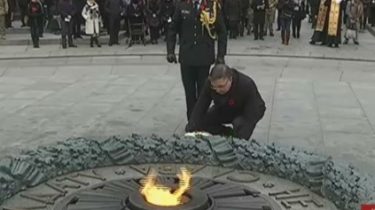 In Kiev remembered the dead in all wars
Memorial day in Europe is celebrated on November 11
Red poppies by the eternal flame. In Kiev today remembered those killed in all wars, says TSN.16.45.
Memorial day in Europe is celebrated on November 11, the day of the First world.
Flowers to the monument of the unknown soldier brought today by the representatives of the embassies of the countries-members of NATO. The dress of Europeans was decorated with red poppies and cornflowers: these flowers are a symbol of memory of victims in different countries.
Ukrainian priests read prayers in English, a minute of silence on European traditions lasted two minutes wreaths at the monument laid by the representatives of more than two dozen countries.
Comments
comments