Omeljan told about the details of the negotiations about running trains with a speed of 300 kilometers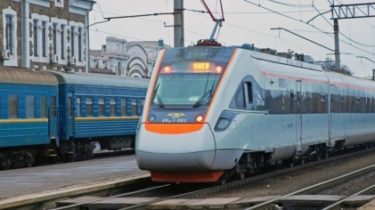 Omeljan told about the details of the negotiations about running trains with a speed of 300 kilometers
© UNIAN
Investors are interested in two directions of high-speed trains.
Question about running in Ukraine trains that would move at the speed of 300 kilometers per hour, yet it remains in limbo. As the negotiations "Ukrzaliznytsya" and the potential investors failed. Plan to resume these negotiations.
About it in interview "Today" told the Minister of infrastructure Vladimir Omelian.
"We had preliminary talks with several investors who have expressed interest. But because of the unwillingness of "Railways" to continue this dialogue, these projects still. Hopefully in the near future, Ukrzaliznytsia will go to real projects," – said the Minister.
See also: the New "Ukrzaliznytsya" – not "epic fail", but to work them hard – Omeljan
Omeljan said that, in addition to the joint construction of locomotives, investors "were interested in two areas where we saw potential for the development of high-speed rail connections. It is Kyiv–Lviv–Warsaw–Berlin and Kiev–Odessa. Not only trains, but rail infrastructure, new rail canvas".
The Minister also called the basic problems of "freezing" the implementation of the project – the lack of people and money.
"Probably the first problem. The money is definitely not a project "Railways" – they have no such resources, billions of dollars. This can be a public-private partnership. Under projects you can make separate laws there is nothing wrong there. Each time under the IMF program, we are voting for 15-20 new laws. And if we are talking about billions of investment, it is possible to speak about what we need to vote for a separate law which guarantees to the investor for 49 years the right of use of infrastructure, protection of its investments and the like. But we will be able to quickly travel", – said the head of Department.
See also: corrupt "Ukrzaliznytsia" spent on a concert for over almost 700 thousand hryvnias
Earlier Omeljan said he wants to change the name of the Ministry of infrastructure.
Comments
comments