Novinsky confirmed the cooperation of the "opposition bloc" with the controversial political strategist trump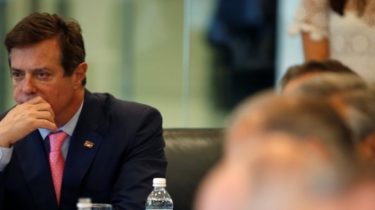 Novinsky confirmed the cooperation of the "opposition bloc" with the controversial political strategist trump
© Reuters
The MP claims that the Manafort paid officially under contract.
Party "Oppositional block", which became a kind of successor of the Party of regions of former President-the fugitive Victor Yanukovych, advised by American political consultant by Paul Manafort.
This broadcast channel "112 Ukraine" said the people's Deputy from "opposition bloc", which is one of the sponsors of the party, Vadim Novinsky. He assured that Manafort was awarded the contract and the money he received officially. How much is not specified.
Recall Manafort appears in the "black accounting" of the Party of regions. According to records, he received cash of $ 12.7 million. After emergence of this information, the then presidential candidate of the United States, which has won the election, Donald trump has decided to refuse the services of Manafortnot to tarnish his reputation.
The team of American engineers, headed by lobbyist Monforton hired for the Party of regions, billionaire Rinat Akhmetov in the fall of 2005, writes "Ukrainian truth". Later, Manafort advised Viktor Yanukovych as Prime Minister. For a monthly payment in 35 thousand dollars the company is of Manafort was to promote the image of Prime Minister Yanukovych as a reformer and an effective Manager. The consultant also advised him to raise his rating to raise the issue of discrimination of Russian-speaking citizens.
Also Manafort worked with the party "Opposition bloc", as informed in the political party not officially confirmed.
"Black accounting" of the Party of regions the name of Manafort appears 22 times. Himself spin denies receipt of these payments. His signatures on the receipt of cash in accounts there.
Earlier , the media became aware of the details of a secret meeting of Putin and Yanukovych. It was about the availability of documentary evidence of payments Manafort.
Comments
comments