A kick in the head and shouts of "Moscow the NIT". As smartly and Lyashko fought in Parliament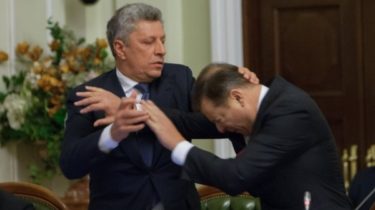 A kick in the head and shouts of "Moscow the NIT". As smartly and Lyashko fought in Parliament
Policy
Today, 13:40
1 of 9

Fight smartly and Lyashko
© UNIAN

1 of 9

Fight smartly and Lyashko
© UNIAN

1 of 9

Fight smartly and Lyashko
© UNIAN

1 of 9

Fight smartly and Lyashko
© UNIAN

1 of 9

Fight smartly and Lyashko
© UNIAN

1 of 9

Fight smartly and Lyashko
© UNIAN

1 of 9

Fight smartly and Lyashko
© UNIAN

1 of 9

Fight smartly and Lyashko
© UNIAN

1 of 9

Fight smartly and Lyashko
© UNIAN
Fight smartly and Lyashko
© UNIAN

Fight smartly and Lyashko
© UNIAN

Fight smartly and Lyashko
© UNIAN

Fight smartly and Lyashko
© UNIAN

Fight smartly and Lyashko
© UNIAN

Fight smartly and Lyashko
© UNIAN

Fight smartly and Lyashko
© UNIAN

Fight smartly and Lyashko
© UNIAN

Fight smartly and Lyashko
© UNIAN
MP from OP twice placed in radical.
Today, November 14, people's deputies Oleg Lyashko and Yuriy Boyko had a fight right during the meeting of the conciliation Council in Parliament.
The radical accused the representative of the Opposition bloc that goes to Moscow for instructions from the Russian authorities.
See also: Boyko called "adequate response" beating Lyashko in the Rada
"Boyko, Lyovochkin go to Moscow regional, the instructions get in the Kremlin. Others go for the Brussels regional… I Have a question for the SBU: why do they go to Moscow and still not in jail," accused the ex-regionals, the leader of the Radical party.
After these words quickly stood up and stabbed his opponent in the head. Lyashko called "Boyko Moscow NIT" and "cattle", to break up the fight rushed other policies.
Later, the leader of the Radical party continued his speech, and again received the kick from Boyko.
We will remind, the speaker of the Verkhovna Rada Andriy Parubiy has responded to the conflict with the participation of the Chairman of the faction "the Opposition bloc" Yuriy Boyko and the leader of the Radical party, Oleg Lyashko during a session of the conciliatory Council. He expressed the opinion that this incident may be part of a Russian plan to destabilize the situation in Ukraine under the name "Rod".
In Parliament there was a fight with participation of Yuriy Boyko and Oleg Lyashko
TSN. Wounds
Today, 12:49
At the conciliatory Council of the leaders of the faction Lyashko, speaking, said Boyko rides "for instructions to the regional Committee in Moscow." After that, the Yuri sitting next to him, got up and hit Lyashko with his fist. They were quickly separated, but a minute later, when Lyashko continued his speech called "apologize" the remnants of Yanukovych, Boyko was up again and hit Lyashko again. Then left the hall.
Add to favourites
Comments
comments