The Pro-Russian candidate declared victory in the elections of the President of Moldova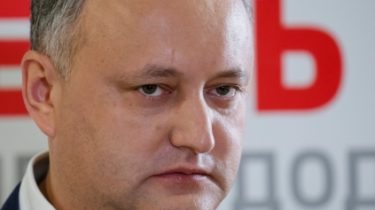 The Pro-Russian candidate declared victory in the elections of the President of Moldova
© Reuters
He turned to his opponent Maia Sandu with a call to reassure her electorate.
The head of the party of socialists Igor Dodon said about his victory in the direct elections of the President of Moldova.
About it writes RIA Novosti.
In the second round of the struggle was between Dodon and the single candidate of the right-wing opposition, the head of the party "Action and solidarity" Maia Sandu said.
According to the Central election Commission of Moldova, after counting 99,09% of protocols Dodon leads with of 53.12% of the vote, his opponent is gaining the side 46,88%.
"With confidence I can say that we won in these presidential elections. Still voting for the ocean. But at the moment we have received 50%+1 vote. We won," said Igor Dodon. He turned to his opponent Maia Sandu with a call to reassure her electorate.
According to him, he will be the President of all citizens of Moldova — the left and the right, and his supporters and his opponents.
Among the plans of the socialist leader as President, in particular, the restoration of the strategic partnership with Russia, the return of Moldovan products to the Russian market and the normalization of cooperation in the energy sector.
See also: Presidential elections in Moldova. What can be expected from the voting neighbors
We will remind, Pro-Russian candidate Igor Dodon won a majority in the first round of presidential elections in Moldova. This is the candidate who had declared the legality of the annexation of Crimea.
During the debates before the election, the leader asked Dodon: "to Whom belongs Crimea?". He said: "the Russian Federation".
Later in the interview, Igor Dodon said that "de facto" Crimea belongs to Russia, but legally it is not yet framed, since most countries never recognized it. The Dodon said he will do everything to Moldova this does not happen, and expressed hope that Russia does not recognize Transnistria.
Russia or Europe: where will the residents of Moldova the second tour of elections
TSN. Week
Yesterday, 20:56
Add to favourites
The current elections in Moldova are special, because for the first time in 20 years the country elects a President publicly. Today is the deadline for the second round of voting, which will ultimately determine the path of Moldova to move to Europe, under the leadership of Maya Sunday, or in Russia with Igor Dodon. The fact that the country already obtained a visa-free regime with the EU, does not reduce the number of those wishing to be closer to Russia.
Comments
comments