After heavy duty shock Marinka local called guilty Ukrainian soldiers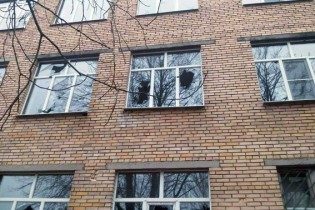 After heavy duty shock Marinka local called guilty Ukrainian soldiers
© State of national police of the Donetsk region
Residents of the town near Donetsk refuse to see the obvious.
Militants last night bombed more than ten houses in Marinka, where only by a miracle did not hurt people. The terrorists fired from a heavy duty 152 caliber, and this attack was one of the worst during the war, according to a story TSN.19:30.
On Tuesday, the military bypassed the yards and fixed losses. One broke the kitchen, where does the garage and crashed the car. The locals are crying from fear and grief for the lost property. "Shock. Just a shock," – can only say the owner of one of rozbaleni households. He adds that even doesn't remember dropped into the basement – it is the instinct to save her from certain death.
Again, under fire: the militants broke more than a dozen houses in Marinka
TSN. 19:30
Yesterday, 19:59
Add to favourites
Cover fire began about eight in the evening. So not much to beat, even early in the war, say local. Terrorists fired from heavy duty 152 caliber. Marinka large caliber does not subside for a week, and miraculously without casualties. But as many as 8 wounded, and our army over the past day in Avdeyevka.
People say that from powerful explosions the house was shaking like from an earthquake. "We did not have this even in 2014-2015", – surprised local. And add that if it were not for the habit of hiding in the basement, the casualties would have been very much. However, until now the blame for the mountain residents of Marinka mostly lay on the Ukrainian military, stubbornly not recognizing that they suffer from fire fighters "DNR" and Russian mercenaries.
As previously reported, in Marinka near Donetsk the fighters covered with fire 3-storey school. About it reported in a press-service of the Maryinsky Department of Volnovakha in Donetsk region. "The result is a powerful night fire has damaged 3 floors of school No. 1, and several streets in the residential sector: October, Shevchenko and Lenin" – said in the message. According to militiamen, it was damaged all three floors of the building, broken and cracked 42 Windows.
The TSN reporter Anna Bock
Comments
comments