To check the legality of cutting down a Christmas tree online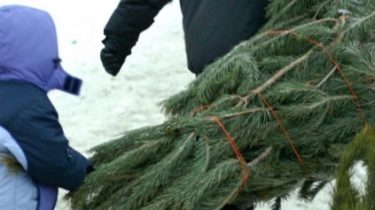 To check the legality of cutting down a Christmas tree online
© UNIAN
Instead of the plastic tags on the trees will stick with a special adhesive labels.
This year on Christmas eve live Christmas trees and pine trees instead of the usual plastic labels will cling self-adhesive labels, which will contain a unique number and bar code. Entering the number on the website of the state Agency of forest resources of Ukraine, can you check is it legal to cut down a tree.
The Department explained that due to the self-adhesive labels the labeling cost cheaper three times – from 1.75 UAH per plastic tag to 0.63 UAH.
See also: In the appeared "new year" train tickets
"Self-adhesive labels are made of special paper, making them impossible to reuse, since they are completely destroyed when you try posting. According to experts, it is through the use of self-adhesive labels, which at a price much more affordable than the tag, shadow market of Christmas trees has decreased almost two times," – noted in the state forestry Agency.
See also: Became known the number of days that the Ukrainians will rest on new year holidays
In addition, we will arrange raids to identify violators who illegally cut down and sell Christmas trees.
"Road crews will goslesohrany together with employees of national police and of the state ecological Inspectorate, public inspectors on environmental protection, the public and the media to identify offenders. Every citizen before the new year holidays will be able to personally see the places of realization, the prices of Christmas trees on the sites of oblupravlenie hunting forestry and forestry. Citizens will be able to buy trees in the state forest enterprises. It will be much cheaper than at Christmas markets. For example, in Zhytomyr region average price per meter will average 30 hryvnia," – said V. acting Chairman of SFA Christina Ushkevich on his page in Facebook.

Comments
comments