In the Parliament want to punish Savchenko for people's deputies-"sheep"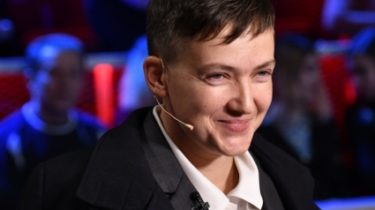 In the Parliament want to punish Savchenko for people's deputies-"sheep"
© The right to Vlad
MPs outraged by the behavior Savchenko.
MP Tatyana Rychkova from the faction "Block of Petro Poroshenko" expresses the need to consider the Procedural Committee in the conduct of the people's Deputy from the faction "Batkivshchyna" Hope Savchenko.
About this Rychkova said at the meeting of Parliament, reports "Interfax".
"On behalf of the faction "Block of Petro Poroshenko" I appeal to the Chairman of the Verkhovna Rada Andrei Parubiy. I think that such behavior in the walls of the Supreme legislative body of Ukraine is a disgrace not only to the Verkhovna Rada… I insist on the fact that such actions and statements should be reviewed by the regulations Committee of the Parliament. I'm sure that for such violations of parliamentary ethics should be imposed fines up to ban the presence of MP in several meetings of the Parliament," she said.
According to the Deputy Savchenko "consciously or unconsciously helping the Kremlin in its information war against Ukraine, because we all know that the theme is about the inability of the Ukrainian government is using all Russian media."
Savchenko: Glad is a tank full of sharks, but I'm also a little piranha
Policy
Today, 14:53
1 of 9

© Reuters

1 of 9

© Reuters

1 of 9

© Reuters

1 of 9

© Reuters

1 of 9

© Reuters

1 of 9

© Reuters

1 of 9

© Reuters

1 of 9

© Reuters

1 of 9

© Reuters
© Reuters

© Reuters

© Reuters

© Reuters

© Reuters

© Reuters

© Reuters

© Reuters

© Reuters
The Agency informs that at the evening plenary meeting, on 15 November Savchenko called the deputies "sheep": "You are defending and you do not understand fair. You politically speculate and prove once again to all the people that you are a sheep. Only one sheep you can also see more than the other. Actually all the sheep".
In response, the people's Deputy from "Blok of Petro Poroshenko" Irina Lutsenko said, "Tell the goats that came with the world community in this Parliament, more than 60 thousand amnestied and released prisoners from Russia now fighting and killing our soldiers…".
See also: "Fatherland" is thought to exclude Savchenko, MP can create your project media
We will remind, yesterday the Verkhovna Rada considered two bills concerning the abolition of the use "of the law Savchenko" to those convicted of heinous crimes, and then speaker of the Verkhovna Rada of Ukraine Andriy paruby closed the evening plenary session of Parliament.
Comments
comments