The people of Kiev will have to pay for exorbitant bills: clear promise only next month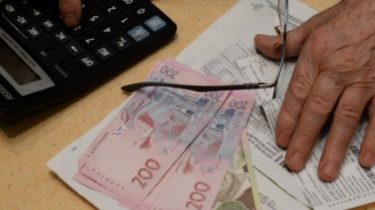 The people of Kiev will have to pay for exorbitant bills: clear promise only next month
© UNIAN
The government is outraged by the situation, but the capital is just the tip of the iceberg.
In Kiev stopped sending payment for heating. This was stated by Vice Prime Minister Pavlo Rozenko, said in the story TSN.19:30.
"Suspended sending payslips in the city of Kiev. Found errors have been greatly inflated prices", – he explained. The situation occurred because of unclear digits in the payment of "Kyivenergo". So, a tiny apartment in the 35 squares for a fortnight received a score of 1049 USD – despite the fact that the utility testimony working the counter didn't even take. How the scheme was accrued payment – Kiev don't understand. "Nobody can explain" – complain residents of the capital.
Mixed tariff: in Kiev stopped the distribution of payment for heating
TSN. 19:30
Today, 19:46
Add to favourites
This was stated by Vice-Prime Minister Pavlo Rozenko. The government has been accused of Kyivenergo, those significantly inflated rates and receipts with errors sent to subscribers. In Kyivenergo deny it, say, to the end of the week all the people of Kiev will receive the account. And the confusion arises only with houses that do not have counters. To understand these calculations, and especially to test can people with outstanding knowledge in higher mathematics. However, such a formula approved by the government.
In "Kyivenergo" acknowledged the error and promised to recalculate bills for 650 homes that have heat meters, but for various reasons the figures are unable to remove – therefore, felt as if in these houses there is no heat metering. Despite this, the specified amount Kiev must still pay – and the next payment will be recalculated. So next month these people for heat will pay less. Repeating mistakes is not – I assure the utility.
Meanwhile, is not insured from such cases and the regions if the capital 90% of apartment buildings equipped with meters, are already in Kharkiv 60% of houses have no meters. Their inhabitants have a lot of questions to the suppliers. The same situation in Chernivtsi, where in the apartment the heat did not come on time, and the bills came to 1700 UAH. Ukrainians horrified receipts for November, now every month the sum of the payment will be a surprise: the factor influencing the final cost of the heat depends on the weather. If in winter there are heavy frosts, the amount of the payment will be even larger.
See also: Kiev send the "defective" bills for heating with high amounts. What to do
As previously reported, for the nomination of Ukrainians illegal bills officials can prosecute. This was stated by Prime Minister of Ukraine Volodymyr Groysman during the meeting of the government.
The TSN reporter Irina Markevich
Comments
comments