In Parliament collect signatures for the resignation of Lutsenko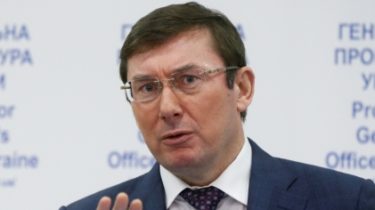 In Parliament collect signatures for the resignation of Lutsenko
© Reuters
The collection of signatures began the MP Sobolev.
The Deputy Chairman of the faction "Samopomich" Yegor Sobolev began collecting signatures for the resignation of Prosecutor General Yury Lutsenko.
He stated this at a meeting of Parliament, reports "Interfax".
"If there are doubts about the work of the General Prosecutor's office, to the quality of their investigations – these are the signatures for the resignation of Prosecutor General Yury Lutsenko. Anyone can Express their position in order to have an effective attorney General," – said the Deputy.
Now appropriate was signed by 14 deputies with the required minimum of 150, UNIAN reports.
"I just started yesterday (to collect signatures), because I couldn't get the sign-up sheet from the office of BP – that's the whole point. Yet was signed by the representatives of "Samopomich", – said the Deputy.
He also noted that a number of members from other political forces are considering the possibility to subscribe to this initiative.
"Samopomich" will not accept participation in voting in Parliament to the time until put to the vote the criminal prosecution of Vadim Novinsky" – said Sobolev.
He stressed that it is impossible to hide behind the inaction of the General Prosecutor's office and not to raise this issue.
After his speech from the rostrum of the Parliament the deputies of "Samopomich" left the session hall.
See also: the Procedural Committee of the Verkhovna Rada postponed the lifting of parliamentary immunity with Novinsky
We will remind, in comments to reporters Prosecutor General Yury Lutsenko declared that people's deputies are looking for reasons not to take a decision on removal of inviolability from the Deputy Vadim Novinsky. "The deputies are afraid to say Yes and afraid to say no and make preparati this problem on me, pushing me – or break of the CPC (criminal procedure code), or you will not receive a response," he said.
Vadim Novinsky is on the case of illegal detention of the assistant to the now deceased Metropolitan of the UOC-MP Vladimir Alexander drabinko. According to investigators, Novinsky was a co-organizer of abductions for the change of leadership of the Ukrainian Orthodox Church of the Moscow Patriarchate 2013.
The Parliament deferred the issue of removal of inviolability from Novinsky
TSN. Wounds
Today, 08:29
Add to favourites
The procedural Committee of the Verkhovna Rada, which had to decide whether to put to vote the question on removal of Deputy immunity from Vadim Novinsky, postponed the hearing until the Prosecutor General's office will not give additional information. Novinsky is on the case of illegal deprivation of liberty of an assistant, the now late Metropolitan Vladimir – Alexander drabinko.
Comments
comments