The procedural Committee of the Verkhovna Rada postponed the lifting of parliamentary immunity with Novinsky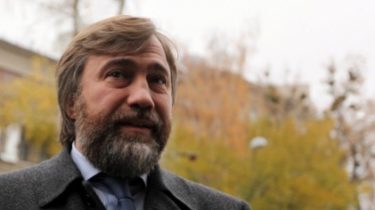 The procedural Committee of the Verkhovna Rada postponed the lifting of parliamentary immunity with Novinsky
© UNIAN
Lutsenko accused the Committee of Parliament in shifting the responsibility to the Prosecutor's office.
The procedural Committee of the Verkhovna Rada postponed the question of removing the parliamentary immunity of representative of the "Opposition bloc" Vadim Novinsky, which appears in the criminal case of pressure on the Church.
About it writes "Ukrainian truth".
The decision was taken at a meeting on Wednesday. The Committee unanimously supported the proposal to consider this matter at the next meeting.
Prosecutor General Yury Lutsenko said that the Committee, in making this decision, is trying to shift responsibility to the state office of public Prosecutor.
"They are afraid to say so, they are afraid to say no, until you do so, to push this problem on to me, pushing me, or you violate the PDA, or can't get an answer," – said Lutsenko.
See also: Novinsky confirmed the cooperation of the "opposition bloc" with the controversial political strategist trump
As reported, Novinsky suspect in the "Church revolution" — namely, aiding and abetting the President Viktor Yanukovych to the elimination of the throne of Kiev, Metropolitan Volodymyr (Sabodan). According to investigators, Novinsky contributed to the restriction of the freedom of the right hand of Vladimir — his Secretary Alexander drabinko. Witnesses in the case, in particular, are presidents of Ukraine Leonid Kravchuk, Leonid Kuchma and Viktor Yushchenko.
However, the Ukrainian Orthodox Church of Moscow Patriarchate issued an address to the President of Ukraine, which stand up for the people's Deputy from "Opposition bloc" Vadim Novinsky. The appeal was signed by the Holy Synod and Metropolitan Onuphrius. The statement noted that openly against Novinsky business of the UOC-MP considers far-fetched, since "neither the late blessed Bishop, nor the person of the Ukrainian Orthodox Church has never stated that there are grounds for such an investigation and published the investigation materials indicate the absence of the consequence of understanding the inner life of the Church."
The procedural Committee of Parliament decides, sit down Novinsky of 5 years in prison
TSN. Wounds
Yesterday, 08:29
Add to favourites
Prosecutorial provision about removal from the Deputy of the opposition bloc intact, sent to the Parliament two weeks ago, will review after lunch. Vadim Novinsky is a suspect in a Church revolution – aiding in removing Yanukovych from Kyiv throne of the Metropolitan of Vladimir. The MP himself believes this case is purely political and said that leaving the country is not going to.
Comments
comments