Foam party. Airport in the United States flooded the fire-fighting substance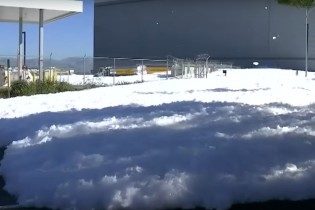 Foam party. Airport in the United States flooded the fire-fighting substance
© YouTube/FOX 5 Atlanta
Residents were asked not to touch the foam.
On Friday evening, November 18, streets in close proximity to the international airport in the U.S. city of San Jose was flooded a large number of fire foam.
The system of release of the substance worked due to a failure, reports Abcnews.
"If there was a fire, this system would work very well," said the fire brigade.
See also: In Mexico urgently landed the plane because of the huge snakes on Board
Residents were asked not to touch the foam because of the risk of skin irritation. However, many ignored the message and played with fire stuff.
The foam flow was stopped, and the airport services have started to remove it.
We will remind, earlier in the Japanese city found out the origin of the mysterious foam after the earthquake. She was the means of fire suppression, which emerged from the tank.
Comments
comments