Lutsenko expects Lyashko evidence that Tymoshenko was working on Moscow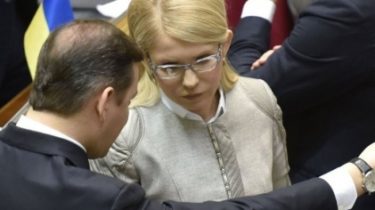 Lutsenko expects Lyashko evidence that Tymoshenko was working on Moscow
© UNIAN
Politicians often abandon their loud accusations.
MP Oleg Lyashko has not provided investigators with evidence about the alleged cooperation of the leader of the faction "Batkivshchyna" in the Verkhovna Rada Yulia Tymoshenko with representatives of the Russian authorities.
This was during the briefing said the Prosecutor General Yury Lutsenko.
"As soon as Oleg Lyashko will form his accusation in a legally acceptable terminology we will certainly consider it, or any other citizens' complaints in the prescribed manner. By the time all of this is political PR, which is characteristic of Oleg Lyashko", – said the Prosecutor General.
See also: Ring the Parliament and duel pistols: members commented on the fight Lyashko and smartly
In turn, the head of the SBU Basil Gritsak added that politicians usually reject the allegations and are unable to answer the basic questions of investigators.
Recall that during his speech in the Parliament Lyashko said that Tymoshenko "cuckoo", which performs the Kremlin's plans for the destruction of Ukraine. He also demanded to deprive of the leader of "Batkivshchyna" citizenship. Lyashko wants to send Tymoshenko in Russia, where "Putin she get Russian citizenship, because she deserved it". "With citizenship and the title of hero of Russia for Subversion that Moscow cuckoo conducting in Ukraine. You're a hero, want the resignation of Peter? Come out to the podium and say… What a grandfather pushing? Vixen torn" – summed up the leader of the radicals.
Tymoshenko insists that against him being a dirty PR-campaign.
Comments
comments