Obama agreed with EU leaders to extend sanctions against Russia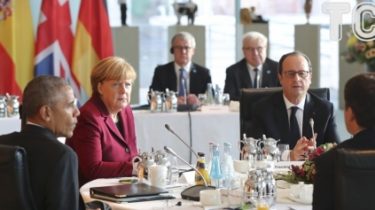 Obama agreed with EU leaders to extend sanctions against Russia
© Reuters
Restrictive measures will be in effect until implementation of the Minsk agreements, said the leader of the United States.
US President Barack Obama and EU leaders in Berlin spoke about the need to extend sanctions against Russia. About it reports AFP.
The US President insisted that sanctions lasted as long as the Minsk agreements will be fulfilled.
Read also: Sanctions for a full recovery of the integrity of Ukraine: Poroshenko and Biden discussed the pressure on Russia
European leaders and U.S. President Barack Obama to discuss the issue on the extension of sanctions against Russia because of the aggressive actions in Ukraine and possible new sanctions because of the bombing in Syria.
Meeting in Berlin organised by Chancellor Angela Merkel. It also involved the leaders of Britain, France, Italy and Spain.
Because of the elected President of the USA of Donald trump, who spoke in favor of normalizing relations with Russia, European leaders fear that Washington's policy after the accession of a Republican for the post of 20 January will be different from the policies of the Obama administration.
Previously, the Federal Chancellor of Germany Angela Merkel and President Barack Obama discussed the importance of maintaining sanctions against Russiauntil the Kremlin does not fulfill the Minsk agreement.
Obama during an unusually long visit to Germany, had dinner with Merkel alone
Policy
17 Nov, 17:44
1 of 19

© Reuters

1 of 19

© Reuters

1 of 19

© Reuters

1 of 19

© Reuters

1 of 19

© Reuters

1 of 19

© Reuters

1 of 19

© Reuters

1 of 19

© Reuters

1 of 19

© Reuters

1 of 19

© Reuters

1 of 19

© Reuters

1 of 19

© Reuters

1 of 19

© Reuters

1 of 19

© Reuters

1 of 19

© Reuters

1 of 19

© Reuters

1 of 19

© Reuters

1 of 19

© Reuters

1 of 19

© Reuters
© Reuters

© Reuters

© Reuters

© Reuters

© Reuters

© Reuters

© Reuters

© Reuters

© Reuters

© Reuters

© Reuters

© Reuters

© Reuters

© Reuters

© Reuters

© Reuters

© Reuters

© Reuters

© Reuters
Comments
comments