New power stealing at least old, but during the war – Rabinovich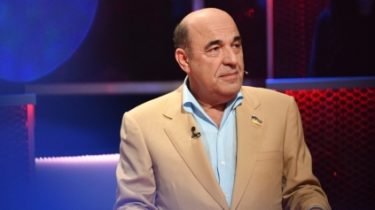 New power stealing at least old, but during the war – Rabinovich
© Dnia
MP calls to adopt a law on impeachment.
The people's Deputy of the faction "the Opposition bloc" Vadim Rabinovich says that the representatives of the new government repeat the actions of the old regime, namely stealing. About the MP said on a talk show, "the Right to Vlad".
"These and those stolen in the same way. Those that worse than stealing? The Tatar-Mongols, if it came, would not do this with the state. Got fuck all! And you tell me who is stealing. Thieves have always been. But these two and a half years was a war, and stealing during the war – you know what to do with such people", – said the politician.
Presenter noted that in fraction Rabinovich gathered some of the most prominent representatives of the old regime from those who have not fled abroad. What the Deputy from "Opposition bloc" disowned, saying that he heads the party "For life".
Note that in may of this year, Rabinovich indeed declared the termination of cooperation with "Apollocon", however, on the official website of the Verkhovna Rada is still the member of the faction "Opposition bloc".
That the representatives of different political forces think about the terms "Rod" to destabilize the situation in Ukraine, see the full release, talk-show "Right to Vlad," from November 17.
Comments
comments