The Prosecutor's office said details of the interrogation Poroshenko in Maidan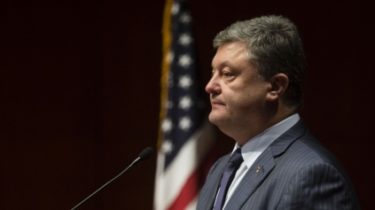 The Prosecutor's office said details of the interrogation Poroshenko in Maidan
© The website of the President of Ukraine
This took place a week and a half earlier than planned.
Interrogation of the President of Ukraine Petro Poroshenko in the Euromaidan protests of 2013-2014 took place yesterday, 18 November, is a week and a half earlier than planned (29 November). The Prosecutor's office explained that shifted the interrogation because of the schedule of the President.
This broadcast channel "112 Ukraine" said the head of the Department of special investigations of the Prosecutor General Sergei Gorbatyuk.
"Indeed, yesterday was the questioning. In General, the agreement in principle was obtained earlier. The problem was in the "window" during the time that the President can allocate for questioning. Yesterday the opportunity came up, and of course we took it, not waiting for November 29. Investigators carried out the interrogation, and the important fact, of course, not the date," – said Gorbatyuk.
No significant details of the interrogation, he said, but cost generalities, given the secrecy of the investigation.
"Questions were raised concerning those events, where the witness was Petro Poroshenko, and the responses received. These answers will be used in the course of the investigation," – said Gorbatyuk.
Yesterday Poroshenko, the interrogation lasted six hours.
According to the representative of the Prosecutor General, avoid questioning in the case of Maidan, the current head of the Transcarpathian regional state administration Gennady Moskal. Earlier the Russian explained that he sees no need to go for questioning in the GPU, because the materials of the parliamentary Temporary investigative Commission (which he headed) in the case of Euromaidan, he gave the Prosecutor's office, which at that time was headed by Oleg Magnitskii.
Meanwhile, on November 25, the planned interrogation via videoconference former President-the fugitive Victor Yanukovych.
Comments
comments