Activists from the Maidan, went to the office Medvedchuk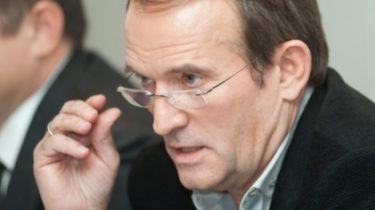 Activists from the Maidan, went to the office Medvedchuk
© UNIAN
Security forces became a border near the office Medvedchuk.
The column of Maidan, where was celebrated the anniversary of the revolution of dignity, went to the office politician Viktor Medvedchuk, godmother of Russian President Vladimir Putin. On the Maidan there were about two hundred people.
People are chanting "Revolution!" "Shame!", "Ukraine above all!".
A column of activists with a large number of law enforcement officers. The column moves under the blue-yellow and red-black flags. Activists move shrutvaa, holding the backpack and each other.
A few meters to the office activist Nikolay Kohanivsky urged people not to touch natsgvardia, because maybe some of them fought on the Donbass.
From Maidan activists came to the area of Leo Tolstoy.
Security forces became a border near the office Medvedchuk. "The corridor!", – demand activists. They are pushing the security forces, although they try to keep the heads of the columns.
See also: On the Maidan in the morning looking for explosives
We will remind that activists of nationalist organizations complain that the police were taken from the people of tyrewhich those tried carried on Independence square.
Security forces is motivated by the possibility of escalation of the conflict.
Activists claim that the tires they tried to carry on as a character. This was stated by the speaker "Right sector" Alexey Bull.
Part of the tires still managed to carry and set fire to them under a stele.
The third anniversary of the revolution of dignity celebrated in all regions of the country
TSN. 16:45
Today, 17:30
Add to favourites
25 flags of all regions of the country in the Day of dignity and Freedom as a sign of unity and indivisibility of Ukraine has launched the students of Kharkiv University of internal Affairs. On the main square Kropivnitskogo, which from February 2014 is the name of the Heroes of Maidan held a rally and prayer service. In Chernivtsi anniversary of the events on the Maidan honored popular Assembly and the General prayer of the priests of different faiths.
Comments
comments