Criticism of Parliament and yevrooptymizm. What Poroshenko said in the speech on the anniversary of the revolution of dignity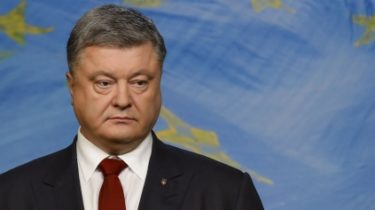 Criticism of Parliament and yevrooptymizm. What Poroshenko said in the speech on the anniversary of the revolution of dignity
© The website of the President of Ukraine
The head of state expressed hope that granting Ukrainians a visa-free regime with the EU.
Ukraine and Europe have become closer, and the plans of Euromaidan gradually come to life.
This was stated by President of Ukraine Petro Poroshenko during his speech on the occasion of the anniversary of the revolution of dignity.
The head of state declared that the Revolution of dignity marked a distinct line that separates the world from the Ukrainian "Russian world".
See also: Anniversary of the revolution of dignity. A text stream
Poroshenko expressed hope for the extension of sanctions against Russia and added that no eurosceptic will not stop the ratification of the Association agreement between Ukraine and the EU.
"When in some countries there is euroscepticism, let us learn how to love Europe," he said.
The Ukrainian leader once again expressed the hope that the Ukrainians will soon be able to bezviz with EU countries.
"Last week the Council of the European Union, adopted unanimously by all States, adopted a decision which recognized the full implementation by Ukraine of all obligations. The EU Council declared the political will of the Union and all its members to grant Ukraine visa-free regime in the near future and included "green light" in this direction", – said Poroshenko.
Also during his speech, Poroshenko reminded of the squabbles in the Ukrainian Parliament and people's deputies criticized for populism.
"If it was created, the international populist movements, Ukraine would be able to delegate to him several parliamentary forces (…) Inherent in any democratic system, the competition authorities and the opposition must not result in an internal war without rules. Than the more turbid the water, the greater the chance that the enemy will catch fish there," said the President.
The head of state remembered by the protesters, who three years ago first came to the Independence square to demand the signing of the Association agreement, and called for the establishment of the Museum-memorial of Heroes of Heavenly Hundred.
We will remind, On the Maidan Nezalezhnosti today, 21 November, will remember the beginning of the revolution of dignity. Khreschatyk and adjacent streets were closed from six in the morning.
The order will be watching 6 thousand security forces.
The center of the capital will be closed today due to mass events
TSN. Wounds
Today, 11:33
Add to favourites
To travel from six in the morning closed Maydan, Michael, Gorodetsky and College. During the day, limit or shut down can movement on adjacent small streets. On the Maidan today will mark the anniversary of the revolution of dignity.
Comments
comments