Putin does not rule out strikes against threatening Russia objects to NATO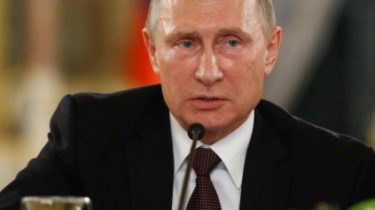 Putin does not rule out strikes against threatening Russia objects to NATO
© Reuters
The situation is annoying, – said Putin.
Objects of NATOthat threatens Russia, will become targets for missile strikes, said the President of the Russian Federation Vladimir Putin.
About it writes "Interfax".
"We have to take countermeasures, that is to jeopardize our missile systems those objects which, in our opinion, begin to threaten us. The situation is annoying," said Putin.
Moscow "so sensitive", because, in his opinion, the decision of the Alliance to better meet Washington, and other countries could not resist his pressure.
Putin also said that Russia does not always understand the logic of actions of the Alliance.
Recall that in 2016 the NATO adheres to the official strategy of containment of Russia. The Alliance plans in 2017 to complete the deployment on its Eastern borders additional battalions.
See also: Ukraine tempered by war and ready to become a NATO member – paruby
We will remind that on Tuesday, November 15, officials in the defence of Europe and NATO warned the elected President of Donald trump from improving relations with Russian President Vladimir Putin. They said they welcomed the dialogue, but the United States should not abandon its allies in trying to improve relations with Moscow.
Comments
comments