SBU "covered" the powerful conversion center which financed terrorists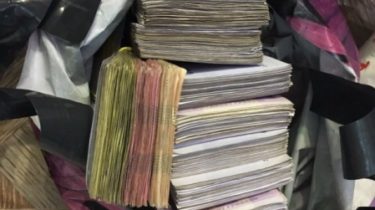 SBU "covered" the powerful conversion center which financed terrorists
Money
Today, 17:06
1 of 4

© Press service of the SBU

1 of 4

© Press service of the SBU

1 of 4

© Press service of the SBU

1 of 4

© Press service of the SBU
© Press service of the SBU

© Press service of the SBU

© Press service of the SBU

© Press service of the SBU
Monthly turnover "envelope" was made more than forty million.
SBU exposed the activity of the powerful konvertatsionny center with offices in Kiev and Kramatorsk, which was funded by terrorists.
It is reported by the SBU.
The former player, who now lives in Kiev, has established the supply of products during temporarily occupied by fighters of Donetsk from a private retail and wholesale warehouse in Kramatorsk. He was paying taxes to terrorist organizations and the conversion center was created to service a range of agricultural enterprises of Kyiv region.
He translated for money traders to cash through bogus bestovarny operations and "helping" businessmen to illegally generate a tax credit.
According to preliminary estimates, the monthly turnover of "envelope" was made more than forty million.
During the searches, seized more than four million, 100 thousand dollars, 30 thousand euros, stamps and documents of fictitious companies, including those registered in the offshore zone and are involved in the transaction.
Read also: In Donetsk region "covered" interregional conversion center with a turnover of 300 million hryvnia
We will remind, in Odessa "covered" organized by the Russian conversion center with a million turnover. Law enforcement authorities established that the "envelope" acted under the guise of legitimate businesses. Clients envelope was the number of companies from various sectors of the economy. Organizers provided services to customers for transfer of funds in cash by carrying out the bestovarnykh finoperatsy.
Comments
comments