Tears in the alley of the Heavenly hundred and the March Azovtsev. In Kiev mark the anniversary of the revolution of dignity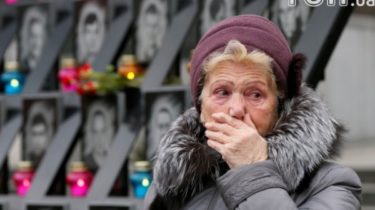 Tears in the alley of the Heavenly hundred and the March Azovtsev. In Kiev mark the anniversary of the revolution of dignity
Kiev
Today, 15:26
1 of 23

People honor the memory of heroes of Heavenly hundred
© Reuters

1 of 23

People honor the memory of heroes of Heavenly hundred
© Reuters

1 of 23

People honor the memory of heroes of Heavenly hundred
© Reuters

1 of 23

People honor the memory of heroes of Heavenly hundred
© Reuters

1 of 23

People honor the memory of heroes of Heavenly hundred
© Reuters

1 of 23

People honor the memory of heroes of Heavenly hundred
© Reuters

1 of 23

People honor the memory of heroes of Heavenly hundred
© Reuters

1 of 23

People honor the memory of heroes of Heavenly hundred
© Reuters

1 of 23

People honor the memory of heroes of Heavenly hundred
© Reuters

1 of 23

People honor the memory of heroes of Heavenly hundred
© Reuters

1 of 23

People honor the memory of heroes of Heavenly hundred
© Reuters

1 of 23

People honor the memory of heroes of Heavenly hundred
© UNIAN

1 of 23

People honor the memory of heroes of Heavenly hundred
© UNIAN

1 of 23

People honor the memory of heroes of Heavenly hundred
© UNIAN

1 of 23

People honor the memory of heroes of Heavenly hundred
© UNIAN

1 of 23

People honor the memory of heroes of Heavenly hundred
© UNIAN

1 of 23

People honor the memory of heroes of Heavenly hundred
© UNIAN

1 of 23

People honor the memory of heroes of Heavenly hundred
© UNIAN

1 of 23

March Azovtsev
© Facebook/the regiment "Azov"

1 of 23

March Azovtsev
© Facebook/the regiment "Azov"

1 of 23

March Azovtsev
© Facebook/the regiment "Azov"

1 of 23

March Azovtsev
© Facebook/the regiment "Azov"

1 of 23

March Azovtsev
© Facebook/the regiment "Azov"
People honor the memory of heroes of Heavenly hundred
© Reuters

People honor the memory of heroes of Heavenly hundred
© Reuters

People honor the memory of heroes of Heavenly hundred
© Reuters

People honor the memory of heroes of Heavenly hundred
© Reuters

People honor the memory of heroes of Heavenly hundred
© Reuters

People honor the memory of heroes of Heavenly hundred
© Reuters

People honor the memory of heroes of Heavenly hundred
© Reuters

People honor the memory of heroes of Heavenly hundred
© Reuters

People honor the memory of heroes of Heavenly hundred
© Reuters

People honor the memory of heroes of Heavenly hundred
© Reuters

People honor the memory of heroes of Heavenly hundred
© Reuters

People honor the memory of heroes of Heavenly hundred
© UNIAN

People honor the memory of heroes of Heavenly hundred
© UNIAN

People honor the memory of heroes of Heavenly hundred
© UNIAN

People honor the memory of heroes of Heavenly hundred
© UNIAN

People honor the memory of heroes of Heavenly hundred
© UNIAN

People honor the memory of heroes of Heavenly hundred
© UNIAN

People honor the memory of heroes of Heavenly hundred
© UNIAN

March Azovtsev
© Facebook/the regiment "Azov"

March Azovtsev
© Facebook/the regiment "Azov"

March Azovtsev
© Facebook/the regiment "Azov"

March Azovtsev
© Facebook/the regiment "Azov"

March Azovtsev
© Facebook/the regiment "Azov"
People remember the dead activists.
Today, November 21, in Kyiv celebrated the third anniversary of the revolution of dignity.
People come to the alley hundreds of Heaven, to remember those killed during the Euromaidan activists. Residents and guests of the city, carrying flowers and candles and can't hold back the tears.
Also in the capital, held a March civil case "Azov". Several thousand activists marched to Bankova street, where he voiced the questions I want to ask the President of Ukraine. Subsequently they with the slogan "the truth is Behind us, force us, for our free Ukraine!" went to the building of the GPU.
See also: Anniversary of the revolution of dignity. A text stream
As previously reported, President of Ukraine Petro Poroshenko promised that in honor of Euromaidan activists in Kiev will house the Museum of the revolution of dignity. The memorial and Museum should be set on the alley of Heroes Heavenly hundreds in Kiev center.
In the Alley of the Heavenly Hundred will build a Museum of Maidan
TSN. Wounds
Today, 12:27
This was stated by Petro Poroshenko during the celebrations for the Day of dignity. The President said that he personally gives the order about allocation of the earth in this place. Despite the fact that the site is controversial, because about him, like, there are court decisions about property. Soon to announce a tender for the construction of the memorial complex.
Add to favourites
Comments
comments