Tenderness with his mistress and the fear of Rostov. The Network has published the proceedings from the phone Motorola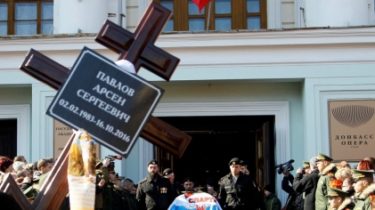 Tenderness with his mistress and the fear of Rostov. The Network has published the proceedings from the phone Motorola
© Reuters
Hackers continue to publish correspondence and videos of the slain militants.
The Network has published another batch of material from the phone of the slain militants Arsen Pavlov, known by the nickname "Motorola".
Materials posted in Facebook InformNapalm activist Mikhail Kuznetsov. Claims that this data is transferred hacktivists from Ukrainian CyberLink.
In particular, given the correspondence of the action with his wife and mistress, which took place in February 2016. 21 Feb Motorola was in Rostov, and before that he complained to mistress Luba that was nervous about the trip, and that "A. I. is very evil." At the same time with his mistress action corresponded with his wife, with which the message was less soft than with his mistress.
Activists posted several videos of the action, one of which he and other men in uniform is testing drone. In another video, he shows off a drone with the words "here's how to work".
Recall, October 16, 2016 in Donetsk killed one of the raspiarennyh and violent militant groups "DNR" Arsene Pavlov, better known by the nickname "Motorola".
According to preliminary information, Pavlov was blown up in the Elevator of the housewhere he lived with his wife and children. One of the leaders of Donetsk separatists Denis Pushilin said that an improvised explosive device, except "Motorola" injured several people. In the interior Ministry of Ukraine the responsibility for the murder lay on the accomplices of the gunman. The leader of the so-called "DNR" Alexander Zakharchenko blamed the leadership and officials of the Ukrainian security service.
Comments
comments