The trial against Ephraim postponed indefinitely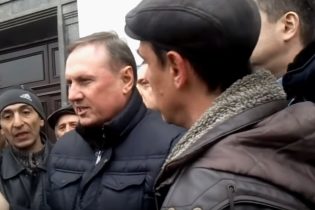 The trial against Ephraim postponed indefinitely
© YouTube
The measure expires on November 24.
Today, 21 November, Kiev Pechersk court is not re-elected a measure of restraint ex-to the regional Alexander Efremov.
As reports "Radio Liberty", the court adjourned for an indefinite time and concluded the meeting. Protection of Ephraim demanded to postpone the meeting on 22 November, but this was denied.
Before the lawyers of the former regional asked for the disqualification of prosecutors and the Registrar of the court, was also denied.
Recall that Ephraim was detained at the airport "Borispol"when he tried to fly to Vienna. He is suspected of infringement of territorial integrity and inviolability of Ukraine, namely – involvement in the creation of so-called "LNR". It is noted that the former regional can still bring charges of financing terrorism. Suspicion Ephraim handed Sunday, July 31.
August 1 a former MP elected a measure of restraint – detention. Previously, Ephraim was already arrested twice for speaking in the Parliament, which, according to investigators, showed signs of separatism and participation in the adoption of "draconian laws".
Comments
comments