OSCE observers left the area of cultivation of the parties in the Donbass military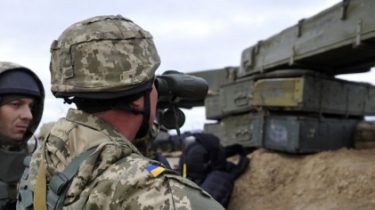 OSCE observers left the area of cultivation of the parties in the Donbass military
© UNIAN
The soldiers say that the enemy immediately took advantage of this and fired at VSU positions.
Near Novotroitsk, Petrovsky and Dokuchayevsk last night more than an hour lasted for infantry combat. To Ukrainian positions tried to break the Russian saboteurs, says the story TSN.19:30.
"Our position the enemy shelled both from small arms and machine guns. Last night was shelled our observation post in a place where was given to our troops," – said the press officer of the mechanized brigades Ivan Burdyuh. The soldiers believe that on the contrary they are precisely the Russians. And they once appeared in the sky the stars, tried to sneak up on positions of the APU. "Four people", – says the soldiers.
Near the occupied Donetsk subversive group tried to break through the defense of the Ukrainians
TSN. 19:30
Yesterday, 20:22
Add to favourites
Near Novotroitsk last night more than an hour lasted for infantry combat. The Russians are standing in front of our units, and they covered the retreat of his subversive group. Before, on the front at the Petrovsky exploding mines and shells exploded. There had to stand and observe the silence of the OSCE inspectors, but some days not seen.
The military said that the small DRG were very professional, applying a distraction and an attempt to provoke a cross-fire of Ukrainian soldiers at each other. The soldiers are saying that the possible target of the attack was to approach quietly to position and cut the Ukrainians. Fortunately, this plan fell through under cover of fire by the terrorists, the Russians were forced to flee.
All this happened in one of the three sectors of the front, where was a test breeding of the parties. Two months here would have to reign complete silence. "Withdrawn our forces from direct confrontation with the enemy to ensure the peace here. The OSCE mission was present", – the fighter told Victor. However, if the APU unit, reluctantly departed, the enemy stayed where they were. Hopes on care world is pinned on the OSCE inspectors, they even equipped a special position of powerful concrete block and reinforced with wood. "Apparently, service here no one is. Shall serve only in the light of the day, but the last two or three days they are generally not seen," – says the press officer of the mechanized brigades Ivan Burdyuh. As soon as the white superintendents of the SUVs disappeared from the line of disengagement in the side of the Ukrainian locomotive flew 120 mm heavy mines and 122-Ki high-explosive artillery shells.
The correspondent TSN Alexander Motor
Comments
comments