The protesters allegedly smashed the office of Medvedchuk in the center of Kiev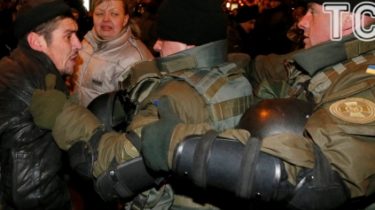 The protesters allegedly smashed the office of Medvedchuk in the center of Kiev
© Reuters
Law enforcement is not interfering in the situation.
The participants of the protest action, which the column marched from Maidan Nezalezhnosti in Kiev, defeated, as they say, office politics Viktor Medvedchuk on the street Saksaganskogo, 23B.
They are urged not to burn the office, but only to defeat, because I live next to quite innocent people. But the blinds in the office has caught fire.
The activists broke the glass on the ground floor and lit fireworks and "dymovuhu".
Police did not intervene in the situation, dozens of security officers rallied behind people.
See also: On the Maidan in the morning looking for explosives
At the scene firefighters arrived. Law enforcement officers in full gear surrounded the fire truck. And firefighters began to extinguish the fire. Within a few minutes the fire was extinguished.
Later it became known that the protesters staged a pogrom in the office of Medvedchuk, as alleged in the beauty salon and small office plumbing and electrics.
We will remind that activists of nationalist organizations complain that the police were taken from the people of tyrewhich those tried carried on Independence square.
Comments
comments