Vilkul gave 25 million hryvnia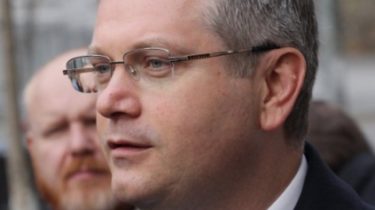 Vilkul gave 25 million hryvnia
Oleksandr Vilkul© UNIAN
The gift he received from his wife.
MP Oleksandr Vilkul from the "Opposition bloc" declared the receipt of a gift of $ 25 million and net income by more than 52 million hryvnias.
This is stated in the changes in property status that Vilkul introduced on November 19 in the system of electronic declarations, reports Ukrainian Pravda.
See also: anti-corruption authorities will compare the lifestyle and income Tymoshenko, and also check the Declaration of the five MPs
It is noted that the gift and income Vilkul has received from his wife Helena.
So, the gift was $ 25 million 848 thousand 668 USD. According to the document, Vilkul also received from his wife the transfer of funds under the contract №1934 from 11.07.2016 in the amount of 52 million 455 thousand 350 hryvnias.
Press Secretary Vilkul Sergey Milyutin has explained to the edition that the wife transferred funds which were declared on it, it's the same money that was in accounts of wife in 2015 and which have been specified in the Declaration for that year. The agreement was signed between Alexander Vilkul and his wife.
"I note that the money paid for income tax, payments into social funds", – said Milyutin.
He also added that the movement of funds has occurred within the family and no outside money is not received.
The publication notes that on different accounts wife Vilkul for 2015 was provided over 3 million dollars, just over 190 thousand UAH. In addition, the wife Vilkul has declared a cash 1 million 800 thousand euros and 1 million 200 thousand dollars.
The Declaration States that the place of work wife Vilkul is PJSC "Northern Mining and Processing Plant", which belongs to Metinvest (the owners Rinat Akhmetov and Vadim Novinsky).
We will remind, earlier in the NEB requested to check 133 million hryvnias of cash, which declared the people's Deputy Ruslan Demchak.
Comments
comments