A car with a dead driver staged an accident near the presidential Administration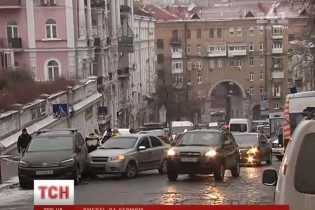 A car with a dead driver staged an accident near the presidential Administration
An unusual accident occurred at the Lutheran.
In the center of Kiev near Administration of the President was unusual and terrible accident. A car with a dead driver crashed into another car, according to a story TSN.19:30.
The accident has shocked even experienced policemen. None of them did not dare to sit behind the wheel of the car to chase her away from the crossroads. Doctors are unequivocal in stating that the 45-year-old driver died from injuries from the outside, and he just stopped the heart during movement. His colleagues say that the man did not complain of health, but only this morning he was a little bad. "I was not sick, perfectly healthy. Even the most complained – said that a little trouble sleeping, not feeling well, then something to drink and said that everything is fine, let's go," he tells a friend of the deceased.
Doctors suggest that the reason could be the weather, because now the pressure falls and people with heart disease are very vulnerable to this. Police also simultaneously warn all drivers that now slippery and please be careful. After all, the same day as the result of an accident involving three cars affected people and formed a huge traffic jam in Kiev.
The correspondent TSN Alexander Country
In the centre of Kiev a car with a dead driver crashed into another car
TSN. 19:30
Yesterday, 21:02
Add to favourites
An accident in the city center at Lutheran has surprised even the police. It's not even an accident, minor scratches on the two cars, the police found a body in one of the vehicle that actually moved. The doctors cannot diagnose, but I say definitely that the man died not from any impact or damage, it just broke my heart.
Comments
comments