Dow Jones set a record for all the years of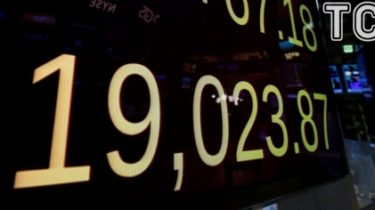 Dow Jones set a record for all the years of
© Reuters
On the US stock markets, the growth of indicators.
After a slight fall now the US stock markets and dollar demonstrate its strong growth. One of the major U.S. industrial Dow Jones indexes for the first time in 120 years of its existence has exceeded 19 thousand points and set your own record.
Four major US markets are rapidly growing for two consecutive days. Dow Jones grew by 67.18 points (0.4%) and reached 19 023,87 points, reports USA Today. The index Standard&Poor's has reached 2202,94 points (an increase of 0.2%). The Nasdaq rose 0.3% to 5386,35 points. Russell added 0.9% and rose to 1334,27 points.
The US stock markets began to fall after the news about the "unexpected" victory in the presidential election Donald trump. But then, analyzed in detail his pre-election program and found, in what industry will positively impact future policies will trump the stock figures went up, especially those that pertain to industry and production.
"Whatever turned the future, trump once again made U.S. stock markets more", – said the employee of the investment company TrendMacro don Laskin.
At the same time in the US, the rise in long-term interest rates and the dollar. In addition, the continuing growth of markets in Japan, China and Hong Kong.
Experts say that strengthening in the U.S. dollar "profitable" Ukraine, because it will be more expensive.
Meanwhile, trump spoke about the future relations between the US and Russia – the "reset" will not.
Comments
comments