The dismantling of the superstructure above the House of trade unions began with scandals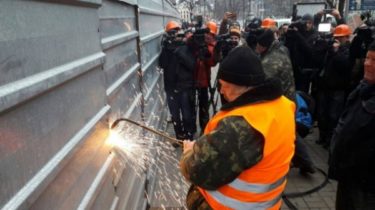 The dismantling of the superstructure above the House of trade unions began with scandals
Kiev
Today, 11:47
1 of 5

© Facebook/Dmitry Belotserkovets

1 of 5

© Facebook/Dmitry Belotserkovets

1 of 5

© Facebook/Dmitry Belotserkovets

1 of 5

© Facebook/Dmitry Belotserkovets

1 of 5

© Facebook/Dmitry Belotserkovets
© Facebook/Dmitry Belotserkovets

© Facebook/Dmitry Belotserkovets

© Facebook/Dmitry Belotserkovets

© Facebook/Dmitry Belotserkovets

© Facebook/Dmitry Belotserkovets
The Metropolitan government says that won all the courts, the owners of a building deny.
Today, November 23, in Kiev began to dismantle two floors illegally add-ins on the House of trade unions.
As the correspondent of TSN from the event that morning, a few employees of public utilities began to dismantle. But the most interesting began with the arrival of the city officials. They were told about the plans of dismantling and claimed that the demolition have all of the court's decision. However, unknown at first were not allowed the officials to dismantle the door had to be cut. Finally, the officials went upstairs, and showed that the work started.
Subsequently there were the lawyers of the owners of the building and accused officials of trespassing on private property. In spite of all, the dismantling continues.
By TSN correspondent Anna Bock
Comments
comments