The new regiment "DNR" was headed by the fighter from Russia Callsign "Czech"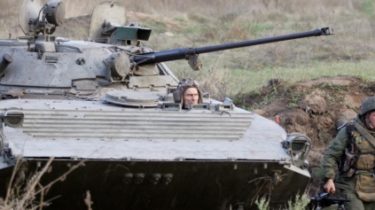 The new regiment "DNR" was headed by the fighter from Russia Callsign "Czech"
© Reuters
Tymchuk also told about the plans of "leadership "DNR" on the new specola.
The recently established special forces "DNR", called "Bastion" headed fighter Andrei Borisov Callsign "Czech" who was born in Russia and had the Callsign "Chechen".
Until recently, Borisov was the "commandant of Mariupol". About this on his page in Facebook wrote Dmitry Tymchuk, the people's Deputy of Ukraine and the coordinator of group "Information resistance".
See also: the Militants in the East use new Russian drones — Tymchuk
We will add that "Bastion" is a "special police regiment for the protection of the first persons of "DNR" and perform special tasks".
According to Tymchuk, the "regiment" consists of two BTG and the three companies of "special forces". Units are mostly formed at the expense of ex-soldiers "battalions of the NPT," in particular "Cheburashka" and "the Patriot" and "international brigade "Tag".
Read also: Donbas Militants are fleeing EN masse from the front due to funding cuts
Now in the regiment, there are 1,300 people, and by the summer of 2017 plans to increase its population up to 5 thousand and to change its status to a "brigade".
The formation of a subject personally to the "leader "DNR" Alexander Zakharchenko.
In addition, it is reported that new units of the regiment are training in Russia and his team took part in the national competition of special forces.
See also: Tymchuk explained why Russia's farce with the detainees "Ukrainian saboteurs"
"The unit initiated the formation of the structures of intelligence, which will be formed on the principle of territorialnoi places of former residence of fighters (about 90 residents of Mariupol, 40 — Kramatorsk, 30 — Konstantinovka, 20 — Slavic and Bakhmut). These individuals are trying to improve (update) their kinship and friendship relationships in hometowns and begin collecting intelligence," — said Tymchuk.
Also note that one of the units "regiment" recently arrived in Novoazovskiy district.
We will remind, on November 22, the Russian militants and the occupation forces were shelling in all directions in the ATO area. In Novotroitsk and Pavlopol fire led sniper.
Comments
comments