In the Russian TV channel broke the Polish journalist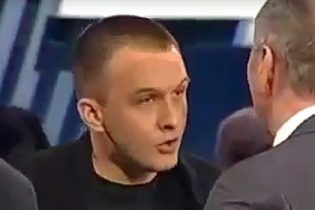 In the Russian TV channel broke the Polish journalist
The host and the guests of the program were angered by the words that "Ukrainians don't want to live in g*out" like a Russian.
In the program "Right to vote" on TVC channel, the Russian beat the Polish journalist Tomasz Maracucha.
Host and guests, among whom were the Deputy of the Odessa-separatist Igor Markov, attacked the pole after he said that "the Ukrainians also want to live like normal people, not in g*out like you."
See also: What is not understood in Ukraine on Russian TV
Journalists were asked to leave the Studio because of these words, to which he replied that he has a right to their opinion and indicated that someone from the hotel called poles and Ukrainians "prostitutes that are sold for money."
See also: Propaganda Kiselyov recognized as "best program" on all Russian TV
Mateychuk was surrounded by six men, and began to be escorted out of the Studio, and Igor Markov lost his temper and struck a Polish journalist in the face.
Comments
comments