The foreign Ministry is indignant at the burning of Ukrainian flag in Moscow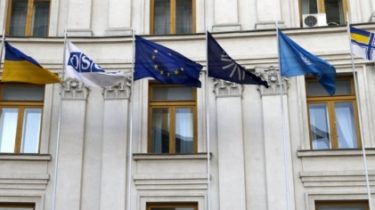 The foreign Ministry is indignant at the burning of Ukrainian flag in Moscow
© UNIAN
Ukrainian diplomats are calling for the publicity of the court verdict to all involved in the Commission of a crime.
The foreign Ministry of Ukraine is extremely outraged by the fact of abuse in Russia over the state symbol of Ukraine – the burning flag, that was committed during the attack on the premises of the National cultural center of Ukraine in Moscow, a group of radical youths.
This is stated on the MFA website.
Ukrainian diplomats are convinced of the planned and sanctioned nature of such shares. In Ukraine such actions around the National cultural centre is regarded as a blatant provocation, whose aim is inciting ethnic hatred and artificial imposition of Russian society anti-Ukrainian aggression.
The Ministry of foreign Affairs of Ukraine expressed a resolute protest to the Russian side, noting the urgent requirements of a criminal investigation and calling for the publicity of the court verdict to all involved in its Commission.
See also: in Kharkiv, the official said that the flag "yellow-blue rag" and took off from work
We will remind that earlier in Poland, during the "independence March" in Warsaw burned the flag of Ukraine. Such actions are strongly condemned by the Ukrainian Embassy in Poland and was sakreboulo reaction from Poland to the incident.
During the celebration of independence Day Polish nationalists burned the Ukrainian flag
TSN. 19:30
11 Nov, 20:44
Add to favourites
98 years ago, the Regency Council handed over power into the hands of the Germans released Pilsudski, Jozef. Then, after a century of partition and occupation by the Germans and Austrians, the Polish state back on the map of Europe. In Warsaw today will be held 20 public meetings, demonstrations, marches and protests.
Comments
comments