"Aydar" in the eyes of the crew TSN repulsed the attack of saboteurs in the Donetsk region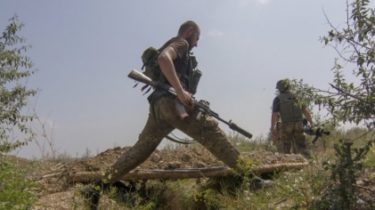 "Aydar" in the eyes of the crew TSN repulsed the attack of saboteurs in the Donetsk region
© UNIAN
The military said that the attackers firmly received and the next attack will be resolved soon.
In the Donetsk region positions of the Ukrainian military tried to attack the Pro-Russian mercenaries from the occupied Yelenovka. A group of saboteurs from the two snipers and three people cover approached the strong point of the military, but was rebuffed and withdrew, says the story TSN.19:30.
The army saw the enemy coming, but the first did not open fire, holding intruders at gunpoint. Only when the commander of the battalion "Aydar" confirmed permission to shoot – the soldiers opened fire in response. The Ukrainians have used the ACS and machine guns. The military said that in two saboteurs fell, but they only killed or wounded unknown. "Partner observed: they fell, others began to retreat. Were wounded, two wounded, and that others don't know. They first opened fire," – said one of the Ukrainian soldiers.
From Olenevka to the reference point of the Ukrainian military came a group of saboteurs
TSN. 19:30
Yesterday, 19:46
Add to favourites
The film crew of TSN came under fire from the occupied Olenevka. Eugene Zvecanska it was nearby and saw the army give resistance to the enemy. The commander of the battalion "Aydar" received permission to open fire.
After the attack of the APU launched into the sky the UAV over the positions to learn the location and actions of the enemy. "The task is simple – to observe and neutralize," – said Ukrainian snipers its work to counter the enemy dig. This time the group was at a distance of 1.5 km, but the next visit will be soon now – the military said that only fire in response you can reduce the activity of the enemy. The battalion commander explains: on the fire with provocative answer, and begin to work only when the enemy is impudent. "When we clearly see the enemy using optical devices when the platoon rests at the reference point, of course, we will answer", – said the battalion commander "Aydar" Maksym Marchenko.
We will remind, insurgents have doubled the number of attacks in the Donbass. In the past days, November 23, in the area of ATO in the Donbas the militants 48 times fired at positions of the Ukrainian military. It is twice more cases of violence than recorded in previous days.
The TSN reporter Eugene Zvecanska
Comments
comments