Quarry and plant Ukrainian billionaire was on the front line under the "guardianship" of militants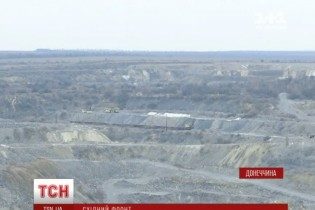 Quarry and plant Ukrainian billionaire was on the front line under the "guardianship" of militants
The Ukrainian military is still waiting for the order to win the object.
At positions near Dokuchaevsk military see with their own eyes the phenomenon of "hybrid war". This is when the night of the residential areas of the occupied territory it shoots artillery, and in the afternoon under the protection of people with flags of Russia at full capacity, operate the plant and quarry of one of the Ukrainian rich, says the story TSN.19:30.
"Witnessing the flash from the settlements. They understand that we have no right to shoot back," talks about night artillery attacks of the militants, the military Callsign "Abram". He sister now had to move to their own land almost squatting. "So moving. Zelenka crumbled, we now, at a glance," explains a soldier of the mechanized brigade.
Near Dokuchayevsk, the military said, as militants defend the property of the oligarchs
TSN. 19:30
Yesterday, 20:41
Add to favourites
The soldiers say that on the side of the terrorists do not just shell our positions and post their flags, but also with the tenacity to defend the property of the oligarchs. Quarry, which provides the local factory is working at full capacity. Belongs, tell the civilian inhabitants of nearby villages, billionaire, and protect all the beauty, patrons of the Kremlin px.
According to the soldiers, this war could claim the status of a classical position, if not a "hybrid" of the nuances of the monetary-political origin that do not fit into healthy mind. The enemies of shares of a quarry, which works daily at full capacity. It is owned by Ukrainian billionaire and protect the property of the Russian separatists and mercenaries of "DNR". The military are convinced that the object is long, it would be possible to recapture and stabilize the front line, and the invaders even stronger hold in Dokuchaevsk. However, there is no command. "On the other side provoke us, and so our only job is to watch," say the soldiers.
As previously reported, on the eve of the positions of the Ukrainian military in the Donetsk region tried to attack the Pro-Russian mercenaries from the occupied Yelenovka. A group of saboteurs from the two snipers and three people cover approached the strong point of the military, but were rebuffed and retreated.
The correspondent TSN Alexander Motor
Comments
comments