"I am outraged". Yanukovych commented on the postponement of the interrogation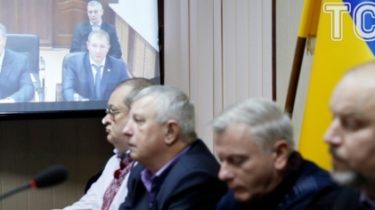 "I am outraged". Yanukovych commented on the postponement of the interrogation
© Reuters
The fugitive stated that the government had supported the radicals.
Deprived of the title of President of Ukraine Viktor Yanukovych commented on the transfer of his interrogation in the case of Euromaidan.
The fugitive could not testify, the questioning was postponed to 28 November due to the absence of the accused in the case. At this time in Kiev, blocked the exits from the Lukyanovka jail, where the former Berkut officers.
Read also: Ukrainian journalists were not allowed for questioning Yanukovych in Rostov
Yanukovych, commenting on the adjournment of the meeting, in the best traditions of the Kremlin propaganda referred to the "Right sector".
"Well, you heard my words. I am outraged by what happened. One question here: who benefits? Today we learned that "Right sector" radicals again on the principle of independence work outside the Ukrainian laws. The government approves" – said a former politician.
Commented on the fugitive and the statement of interior Minister of Ukraine Arsen Avakov about the fact that law enforcement officers will not engage in violent conflict with activists who block the jail.
"Now that's just what you said Avakov that we will not give Yanukovych an information platform. What does this mean? The Minister of the interior does not execute the court decision. The court decided to interview me as a witness. And, of course, fear of what will be revealed crimes of the Maidan, is today" – he told reporters.
Recall that the hearing on the case of execution of participants of Euromaidan, the witness of which is held by Viktor Yanukovych, postponed to Monday, November 28. Time – 13:00 Kyiv time. This decision was made in connection with the failure to deliver from prison the accused. Their departure was blocked by protesters. Yanukovych tried to make a political statement, but it is forbidden to do a Kyiv judge. However, the President-the fugitive said that needs to deliver indictees to the meeting. He also agreed to attend a meeting on November 28.
Yanukovych has already arrived at the courthouse in Rostov
TSN. Wounds
Yesterday, 12:29
Add to favourites
In the Svyatoshinsky district court of the capital will be the interrogation of Viktor Yanukovych through the video. President fugitive will hear as a witness in the case of the shooting at the Maidan. Yanukovych himself at that time will testify from the hall of the Rostov regional court.
l
Comments
comments