"We have not met." Yanukovych said he would not cancel the press conference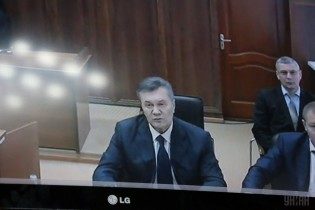 "We have not met." Yanukovych said he would not cancel the press conference
Viktor Yanukovych at the meeting of the court in Rostov© UNIAN
Earlier, the Ukrainian court decided to postpone the questioning of the fugitive.
President-the fugitive Victor Yanukovych stated that still hold today, 25 November, a press conference, although his videotapes Ukrainian court did not take place.
This he reported after the meeting.
See also: the Activists have unblocked Lukyanivka prison after the transfer of the interrogation Yanukovych
"I can't say that I'll have to tell the court. And given that the 28 th will be a meeting of the court now to give them a chance to use these my testimony outside the court – I'm such a chance will not let them. But still something I say. Well, of course, I will answer all the questions that you care about, are interested in. We have not met," he said.
Also his lawyer at a press conference comment on the court's decision to adjourn the meeting.
"I don't want to comment from the point of view of the law that happened today. I asked Victor, my lawyer, he as a person related directly to Themis, he will tell you what happened today from the point of view of the law and to whom it was profitable," – said Yanukovych.
We will remind, today the activists of "Right sector" blocked Lukyanivka prison, to prevent the export of ex-Berkut officers in Svyatoshinsky court where the meeting took place in the shootings on the Maidan, with the participation of Viktor Yanukovych.
The interrogation of the former President was moved to 13 hours Monday, November 28, due to the failure of the accused in the courtroom.
Comments
comments