Ukrainian journalists not allowed for questioning Yanukovych in Rostov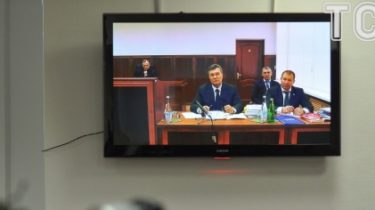 Ukrainian journalists not allowed for questioning Yanukovych in Rostov
© Reuters
Correspondents were excluded from the list.
Ukrainian journalists not allowed into the meeting, the regional court of Rostov-on-don, where he is testifying in the case of the Euromaidan deprived the title of President of Ukraine Viktor Yanukovych.
This was reported to UNIAN Roman Tsimbalyuk.
According to him, representatives of Ukrainian mass media noted in the lists, and then replaced them.
See also: Questioning Yanukovych postponed. The first day of the hearing
"Cool, but Ukrainian journalists are not allowed in the hall of the Rostov regional court. We went, we checked and noted in the list. Came this guy, changed the lists, and in was not. A clever combination spent, like lit. Like 2.5 years ago in Rostov, where Yanukovych is a complete mess," – said in the message Tsimbalyuk.
"Then security took my Apple (I thought perhaps that it will throw), and now I'm not allowed to see Yanukovych. Sadness" – said Tsymbalyuk.
Recall, today, November 25, Svyatoshinsky court of Kiev needs to question deprived the title of President of Ukraine Viktor Yanukovych. The fugitive going to be interviewed online via Skype – it will be in the district court of Rostov. Yanukovych will speak as a witness in the case of the shooting of activists Euromaidan. The case of the shooting of 48 Ukrainians in the Institute in the Svyatoshinsky court hears and a half years.
The meeting was moved to November 28.
Comments
comments