Yanukovych should be questioning the main accused in the case of the shooting of the Maidan – Turchynov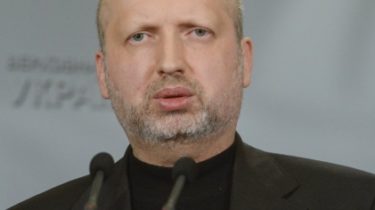 Yanukovych should be questioning the main accused in the case of the shooting of the Maidan – Turchynov
© UNIAN
The NSDC Secretary believes that the Russian secret service chose for the Ukrainian court the role of extras in their show.
Deprived of the title of President of Ukraine Viktor Yanukovych should be questioned not as a witness in cases related to the events on the Maidan, and as the main accused.
This was stated by the NSDC Secretary Oleksandr Turchynov.
"You know what the problem is this interrogation? That Yanukovych will be questioned as a witness, strange as it may sound. I am convinced that Yanukovych should be questioned not as a witness, and as the main accused, and for good reason: from large-scale corruption and ending his personal responsibility for the execution of Heavenly one Hundred", – he stressed in an interview to "Interfax-Ukraine".
See also: Questioning Yanukovych postponed. The first day of the hearing
According to the NSDC Secretary, the Russians, who have given permission for this interview, "I just want to do a show where the "witness" Yanukovych will protect the Berkut and sling mud at the Maidan."
At the same time, Turchynov said that Yanukovych does not recognize his guilt.
"He will tell you that "Berkut" did their duty, and the like. The court went towards the protection of suspects in the murders, and became a tool for the implementation of another script. The Ukrainian court must serve Ukraine and its laws, not to be extras in the scenario of the Russian security services," he said.
Besides Turchynov reminded Yanukovych signed the appeal to Putin on introduction of troops to Ukraine and said that it should be tried for treason.
"For it to be answered. If we can't deliver Yanukovych to Ukraine correspondence should be justice," said Secretary of the NSDC.
Recall, today, November 25, Svyatoshinsky court of Kiev will interrogate Viktor Yanukovych. The fugitive going to be interviewed online via Skype – it will be in the district court of Rostov-on-don. After questioning Yanukovych holds a press conference. And the interrogation will be to look online.
Comments
comments