In Estonia, the passenger was driving the bus instead of a drunk driver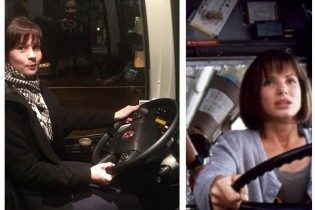 In Estonia, the passenger was driving the bus instead of a drunk driver
© Facebook/Migle Nael
The bus was carrying 20 people.
On Saturday evening, November 26, in Estonia, over 20 kilometers from the border police detained the drunk bus driverwho went in flight Tallinn – Riga.
Because one passenger had the right to drive the bus, she took the vehicle to the Latvian border, reports Delfi.
It is noted that in law enforcement bodies of Estonia, it was reported that the driver of a public bus acting strange on the road: dramatically slows down and creates a dangerous situation. The police stopped the bus company Ecolines on the route Tartu – pärnu – Ikla.
See also: Drunk Briton became famous accidentally purchased in Ibiza the bus for 30 thousand pounds
It turned out that 50-the summer man was in a state of alcoholic intoxication.
"He said he was drinking vodka," said the passenger bus.
The woman was delivered the bus to the Estonian-Latvian border. After a three-hour wait for passengers arrived new vehicle, which drove them to Riga. According to a report in salon of the bus there were 20 persons.
It is reported that passengers were dissatisfied with the work of the transport company.
We will remind, in the beginning of November on Board the Mexican airline Aeromexico passengers found a snake, because of this, the plane was forced to land urgently. Reptile appeared in the overhead baggage compartment in the ship, EN route from city Toreon in Mexico city.
Comments
comments