The Ukrainian foreign Ministry has condemned the "agreement" of the Russian Federation with the occupation regime of Sukhumi on the joint forces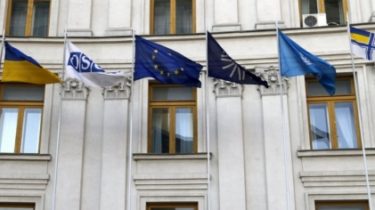 The Ukrainian foreign Ministry has condemned the "agreement" of the Russian Federation with the occupation regime of Sukhumi on the joint forces
© UNIAN
Ukraine once again urged Russia to withdraw its military units from the occupied territories of Georgia.
The Ministry of foreign Affairs of Ukraine condemns the signing by the President of the Russian Federation Vladimir Putin of the law on ratification of the so-called "deal" with the occupation regime of Sukhumi on establishment of the joint group of forces.
About it informs the Ministry of foreign Affairs website.
According to Ukrainian diplomats, by this act, the Russian side intends to legitimize the illegal stationing of Russian military units and militants terrorizing the population of Abkhazia.
"At the same time, the Russian side grossly violates its international obligations, in particular under the agreement on the ceasefire of 12 August 2008. Such actions increase tension in the region, be a hindrance to the plans for the development of international transport and energy corridors, create conditions for the further decline of the occupied territories and trigger new migration flows", – said in a statement.
Ukraine once again urged Russia to withdraw its military units from the occupied territories of Georgia to ensure the creation of national and international security arrangements in Abkhazia and Tskhinvali region and to restore the territorial integrity and sovereignty of Georgia.
See also: Abkhazian bomber was subordinate to the "Motorola" – Caucasus Times
We will remind that the earlier Vice-the U.S. President Joe Biden expressed a negative assessment of the ratification in the Russian "State Duma" the so-called "agreement" with the breakaway Republic of Abkhazia on the creation of the United armed forces.
Recall that in January 2016 the international criminal court began investigating war crimes during the Russian-Georgian armed conflict in 2008.
The pre-trial division allowed the Prosecutor to start the investigation of crimes committed in the Georgian region of South Ossetia from 1 July to 10 October 2008.
In October 2015, the Prosecutor of the International criminal court in the Hague, Fatou Bensouda, requested permission to start investigating possible war crimes in the Russian-Georgian war in 2008.
Bensouda was a testimony that "the de facto authorities of South Ossetia" killed 113 ethnic Georgians during the forced eviction of the breakaway Republic. According to the Prosecutor, during the campaign evicted about 18.5 thousand people, destroyed about five thousand homes.
Bensouda also noted that the curators of the eviction and killings of Georgians, probably, was the Russian military.
As you know, in 2008, around the armed conflict in South Ossetia appeared the Russian-Georgian conflict. Russia invaded the country to support separatist groups. Russian troops bombed Georgian cities, ports and military installations. After the occupation of Georgia by Russian troops and ethnic cleansing of Georgian villages around South Ossetia with international mediators had reached a cease-fire.
Comments
comments