Yanukovych reiterated the request to apply against Ukraine Russian troops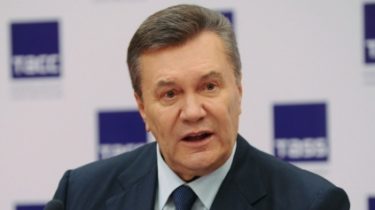 Yanukovych reiterated the request to apply against Ukraine Russian troops
© Reuters
The fugitive explained the document emotions.
At the press-conference in the Russian city of Rostov-on-don, escaped from the Ukraine Viktor Yanukovych confirmed the existence of a written petition on the use of Russian troops against the Armed forces of Ukraine. The document was signed on behalf of the President of Ukraine – the title of which Yanukovych was stripped.
According to wanted for several crimes ex-official, "the document was" but it has not been introduced. The emergence of this request, Yanukovych explained the emotional reaction to "attack of illegal armed formations on the Donbass" – so he called the actions of the Ukrainian army to restore constitutional order in the territory occupied by Russian-backed separatists. "The desire somehow to protect these people", – Yanukovych explained his decision.
Earlier, Yanukovych called the cause of the separation of Donbass from Ukraine. "I have said repeatedly my point of view. I was initially against, to violate the territorial integrity of Ukraine. The separation of Donbass from Ukraine – the emotional rush of people who reacted to the events in Kiev", – said the fugitive.
The police and riot police with dogs: around the court in Rostov enhanced security measures
TSN. 16:45
25 November, 17:30
Add to favourites
To see the President of the fugitive firsthand we could not – on the way to the Rostov regional court could only see the tail of the motorcade, likely imported to the construction of Viktor Yanukovych for an hour before questioning. Around facilities – enhanced security measures, the police on duty at every street corner.
Comments
comments