Hayser Dzhemilev arrived in Kiev and met with the father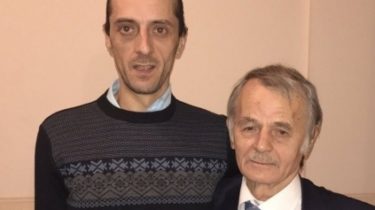 Hayser Dzhemilev arrived in Kiev and met with the father
© twitter/Nikolai Polozov
The health of former prisoners undermined.
Released from a Russian prison Hayser Dzhemilev came to Kiev and met with his father, the leader of the Crimean Tatar people Mustafa Dzhemilev.
About this on his page in Twitter wrote the lawyer Nikolai Polozov and added a photo of the meeting of father and son.
Father and son pic.twitter.com/rrCpK0kwZj
— Nikolai Polozov (@nikolai_polozov) 26 Listopad 2016 R.
Mustafa Dzhemilev said that his son after his release from a Russian prison has put him in a diplomatic car and taken to the border with Ukraine. This was done in order to avoid contact with the Russian authorities. After crossing the border Hayser Dzhemilev came to the house of his father, reports Hromadske.
"His health is a bit compromised. Its 30-plus days in solitary because he's "not go" — has come up with the most stupid reason for content. It is actually held hostage," — said Mustafa Cemil.
See also: Son of Dzhemilev will be sent to Ukraine – lawyer
Recall, 10 Jun 2014 Hayser Dzhemilev was sentenced to five years imprisonment in a penal colony for manslaughter, theft and possession of weapons. The jury found guilty of Cemil. On 2 September, the Supreme court reduced the sentence to a year and a half.
Earlier in Russia recognized recognized Ukrainian citizenship Hayser, who spoke against granting him Russian citizenship, which automatically gave the residents of the occupied Crimea.
Subsequently, on October 27, Astrakhan regional court upheld the denial of parole to the Crimea to Dzhemilev Hayser.
In Russia, the son of Mustafa Jemilev was released from custody
TSN. 19:30
26 November, 20:36
Add to favourites
About this on his page in the social network, said his lawyer Nikolai Polozov. Hayser Dzhemilev was released from a Russian prison at the end of the sentence. A Russian court found Hayser a citizen of Ukraine and did not obstruct the crossing of the border. In may 2013, the son of Cemil in the courtyard of his house in Bakhchisaray accidentally shot by a family friend Fevzi Edemova.
Comments
comments