Questioning Yanukovych in Kiev, the activists will picket the court, and in Rostov slept interest to the ex-President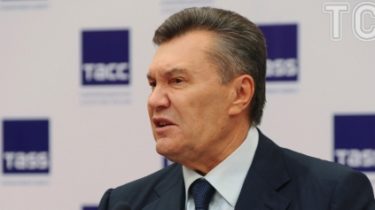 Questioning Yanukovych in Kiev, the activists will picket the court, and in Rostov slept interest to the ex-President
© Reuters
Today the "Right sector" does not block the Lukyanivka prison.
Svyatoshinsky court of Kiev are preparing a second attempt to interrogate the ex-President of Ukraine Viktor Yanukovych, when he is expected to 13.00, says TSN.12:00.
See also: the Second attempt of the interrogation of Yanukovych in the case of Euromaidan. Video
There is a strong possibility that he still will testify. Under the court duty about hundred policemen and about a dozen cars. Activists of the "Right sector", which on Friday were not allowed to leave Lukyanovka jail in the police van with the accused Berkut today to insulator did not go, and promised to picket Sviatoshynskyi court to put Yanukovych on trial, not the witness. Under Lukyanovsky jail today activists there.
See also: "Legitimate" again made itself felt: how social media reacted to Yanukovych's speech
In the Rostov regional court from minute to minute waiting for the motorcade of Viktor Yanukovych. Around the courthouse security measures, the police on duty at every street corner. Under the court even evacuate the cars. Note that today Yanukovych is not interested in the press as much as during the first interrogation of the journalists on the scene, at least half the time.
After questioning Yanukovych in the courthouse plans to give another press conference. Last Friday, he said that his main mistakethat he was not declared a state of emergency in Ukraine and sent troops to Kiev to "avoid bloodshed". At the same time, Yanukovych admitted that after the flight on 1 March 2014 asked Putin to enter the Russian army in our country.
Correspondents TSN Stanislav Feshchenko, Roman Tsymbalyuk, Alexander Zagorodnii
In the Svyatoshinsky court of Kiev for the second time and questioned Yanukovych over Skype
TSN. Wounds
Today, 09:52
Add to favourites
In the hour of the day will be videotaped ex-President of Ukraine Viktor Yanukovych in the case of the five former soldiers of "Berkut", who are accused of murder of Maidan activists. The questioning was to take place on Friday. And the court fell, the activists of "Right sector" were not given a paddy wagon with the defendants to leave jail.
Comments
comments