The court extended the detention of a person in Russia Sushchenko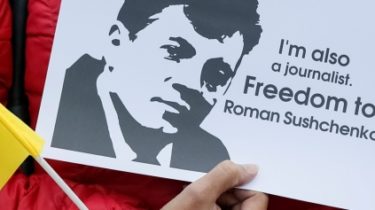 The court extended the detention of a person in Russia Sushchenko
© Reuters
The court was closed.
Lawyer detained in Moscow, the correspondent of "UKRINFORM" in Paris Roman Sushchenko mark Feigin said that the court extended the arrest of his client.
He said this in his Twitter.
"Lefortovsky court extended the arrest of Roman Sushchenko until January 30, 2017," he said.
Lefortovsky court extended the arrest of Roman Sushchenko until January 30, 2017.
— Mark Feygin (@mark_feygin) 28 Nov 2016
Feigin said that the investigation sought to extend the arrest for another two months – until January 30.
Read also: SBU has made a detainee in Russia Sushchenko in the list on the exchange
Recall, 3 October, information appeared about the arrest of Roman Sushchenko Lefortovo court for 2 months. Russian security forces claim that Sushchenko "purposefully collected data, which constitute state secret, the activities of the Armed forces and National guard, the leak of which abroad could harm the defense of the state". Against the Ukrainian opened a criminal case on charges of espionage, are investigating. Roman Sushchenko in jail "Lefortovo" has found members of the Public oversight Commission (POC) of Moscow. 47-year-old journalist was in the chamber of the quarantine Department.
The journalist told members of the POC that he was put under psychological pressure, and the investigator was not allowed to call and tell his wife about the arrest. The FSB has provided him with a state attorney. The former lawyer was released from Russian captivity of the people's Deputy of Hope Savchenko mark Feigin decided to help Sushchenko and become his protector.
Previously it was reported that the journalist Roman Sushchenko can exchange for a detainee recently in Exactly the agent of the main intelligence Directorate of the General staff of the armed forces of the Russian Federation.
Mark Feigin urged France to urgently intervene in case of journalist Sushchenko
TSN. Wounds
November 8, 12:47
Add to favourites
It is the support of the administration of the French President in the near future will actively pursue the defense. Roman Sushchenko is already allowed in prison to read Russian Newspapers. Such details of stay behind a lattice Feigin told the correspondent of "UKRINFORM". According to the defender, a Ukrainian journalist feels good. And preparing to move to a new cell in the SIZO "Lefortovo".
Comments
comments