Representatives of the Russian Federation and Hungarian neo-Nazis suspected in a joint training – media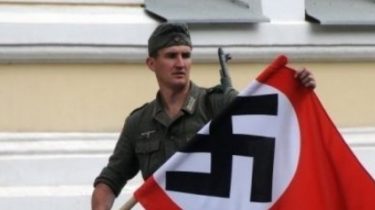 Representatives of the Russian Federation and Hungarian neo-Nazis suspected in a joint training – media
© UNIAN
In Budapest allegedly knew that Russia had assisted the extremists in Hungary.
In Hungary, where previously protested the story of the Kremlin propagandist Kiselyov, intelligence agencies found that the diplomats of the Russian Federation and the people in Russian military uniforms participated in the training of members of the Hungarian organization "movement of the national front", whose leaders were supporters of neo-Nazism.
RBC reports referring to Financial Times.
Hungarian journalists have received access to the correspondence of the leaders of the movement, in which they discussed the financial assistance from Moscow, – the newspaper writes.
Note that Hungarian police carried out the operation of the arrest of the leader of the organization of Istvan Gyorkos, who called himself a Nazi and admired the Hungarian Nazi Ferenc Salashi, who during the Second World war was an ally of Hitler, and after Hungary was occupied by the Soviet army, was executed for participating in the massacres. During the police operation had barricaded himself in his house and began to shoot, killing one policeman was killed. Now Gyorkos and a prisoner is suspected of committing a range of crimes, including the spread of hateful ideology.
Read also: EU can't stop authoritarianism in Poland and Hungary, Juncker
In Budapest knew that Russia had assisted the extremists in the territory of Hungary – this is reported by sources of the Financial Times. They say, the government never voiced it for fear that Moscow will refuse to implementation of economic projects, for example, gas supplies and construction of two reactors.
We will remind that earlier the government of Hungary has repeatedly insisted on easing the sanctions policy of the EU towards Moscow. In particular, the Prime Minister of Hungary Viktor Orban suggested not automatically renew restrictions the Kremlin, and move to a new discussion. However, such a policy finds positive responses among the leadership of the EU.
Comments
comments