The second attempt of the interrogation of Yanukovych in the case of Euromaidan. Video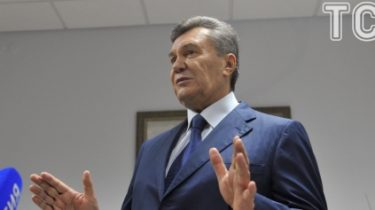 The second attempt of the interrogation of Yanukovych in the case of Euromaidan. Video
© Reuters
Time – 13:00 Kyiv time.
The hearing in the case of execution of participants of Euromaidan, the witness of which is held by Viktor Yanukovych, will be held today, November 28.
This decision was taken in connection with the failure to deliver from prison the accused at the first meeting November 25. Their departure was blocked by the protesters. Yanukovych tried to make a political statement, but it is forbidden to do a Kyiv judge. However, the President-the fugitive said that needs to deliver indictees to the meeting. He also agreed to attend a meeting on November 28.
We will remind, on Friday, November 25, held a hearing on the case of execution of participants Bromido, with the participation of Viktor Yanukovych.
However, about 30 activists with flags "Right sector" and the "Free people" blocked the departure of the accused Berkut officers from prison. They held in hand posters with inscriptions "the Killers of hundreds of Heaven in jail", "Blood of the Heavenly hundred on your hands" and "Killer jail."
Comments
comments