Near suffering Turecka agreed to a cease-fire for three days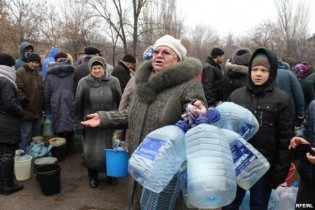 Near suffering Turecka agreed to a cease-fire for three days
© Radio Liberty
During this time, repairers have to repair damaged shells water and give water to residents.
The Russian side in the Joint coordination center for ceasefire (SCCC) has provided written evidence of compliance with the silence regime and ceasefire near the damaged water main near Taracka that is due to the lack of water is on the verge of a humanitarian catastrophe.
About this on his page in Facebook wrote the Chairman of the Donetsk regional military-civil administration Paul Gebruik.
According to him, the silence mode will begin on Tuesday, November 29, at 9 a.m. and will last until 16.00. The ceasefire provided for three days.
"(Tomorrow) in the morning our maintenance crews and MES begin work," wrote zhebrivskyi.
Residents of the frontline Turecka sit week without water. There, the militants shelled the outskirts of the city, several shells broke the water, and then were not allowed public utilities to fix the pipes.
Donechchina residents sit week without water
TSN. 19:30
Yesterday, 20:23
Add to favourites
In Turecka fighters fired at vicinities of the city, several shells killed a water supply system. Now the Pro-Russian mercenaries are not allowed public utilities to fix the pipes. The Ukrainian side, and the shelling and the denial of fighters called diversion, which has the purpose to configure the local against the Ukrainian military.
Comments
comments