Theatre on Podol don't have to break out of the ensemble of buildings at Andriyivsky descent – Klitschko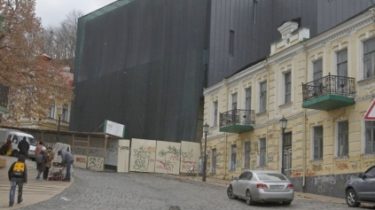 Theatre on Podol don't have to break out of the ensemble of buildings at Andriyivsky descent – Klitschko
© UNIAN
The mayor noted that the construction did not adhere to certain standards.
Theatre on Podol will not be put into operation, yet its appearance does not reconcile with the public and professionals. This was stated by the mayor of Kiev Vitali Klitschko.
"The architectural ensemble of the Andriyivskyy descent – the iconic, historic streets must be saved! Without taking into account the opinions of specialists and the consent of the public, this building will not be commissioned. Need to modify the appearance of the building, so it is not distracting from the ensemble of houses on the descent, and should be taken into account the recommendations of the urban planning Council," – said Klitschko.
The mayor also noted that excluding the opinions of experts and the public on the exterior of the building, the theatre on Podol will not be commissioned.
Recall, November 29, inaugurated the facade of the Theater on Podol, the appearance of which angered Kiev. The opening of the theater planned for may 2017. The chief architect of the capital was assured that the building will not be commissioned until it will not pass the city planning Commission. At the same time, the Director of the theater in front of the building NOVALIS, and said that it has already made some adjustments to the project.
Hem opened the facade of the new theater building, which caused a great resonance
Releases TSN
Today, 13:06
Add to favourites
The curtain was removed at the same time the applause and cries of "Shame". Kiev angered the facade of the new building of drama theatre, built on Andreevsky descent. Architectural and town planning Council, which reviewed the project, made the remark and asked the architect Oleg Drozdov to take them into account. After this, Drozdov was to provide the draft to the Council for approval, but he did not appear.
Comments
comments