In Ukraine raise the cost of living, salaries and pensions. Infographics
In Ukraine raise the cost of living, salaries and pensions. Infographics
© Getty Images
New social standards will take effect from 1 December.
Tomorrow, December 1, in Ukraine by 10% will increase social standards: a living wage up to UAH 1544, minimum wage – up to 1600 UAH.
The relevant rules written in the law on the state budget for 2016.
Increase in social standards will entail a revision in the direction of increase and other benefits. For example, salary (stavk) employee of the first tariff category of Unified tariff will be 150 UAH – UAH 1335.
See also: NBU announced inflation forecasts after doubling the minimum wage
The salaries of education workers in December will grow by 260-450 UAH, from 1 January in the half.
In December also will increase the salaries of health workers. Nurse additionally will get 246 UAH, physician the first qualifying category – plus 318 UAH to paycheck, a surgeon of the highest category – more than 363 UAH. From January 1, the salary of medical workers will grow roughly by a third.
The minimum old-age pension in December will increase on average by 117 UAH. In particular, the minimum size of pensions of miners will grow by UAH 351, the minimum pension payment in case of loss of breadwinner – 117-175 UAH, the minimum pension in case of loss of the breadwinner of the number of troops – 234 UAH, the minimum pension payment to disabled veterans and disabled participants of liquidation of consequences of the Chernobyl accident on 193-333 UAH, the state social assistance to disabled since childhood and children with disabilities – 208.9 m-239,9 UAH, assistance for children under guardianship or trusteeship – 254-316 UAH, aid for children to single mothers (the maximum size) – 127-158 UAH, care allowance for disabled people with mental illnesses – 150 UAH.
See also: Winter will begin with increase of salaries. What will be the salary to state employees
Recall from the beginning of 2016, the social standards in Ukraine increased twice – as a whole 16.1%. In the draft budget 2017 also provided for improving social standards. And if the size of the subsistence minimum will not grow as significantly, the minimum salary since January 1, should be twice more than now, and at 3.2 ths. However, after taxes and fees the "net" will receive 2.5 thousand UAH.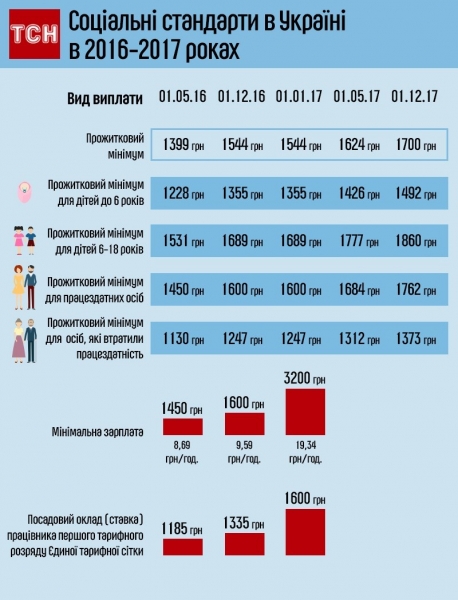 TSN.ua
Indicators for 2017 Cabinet approved the draft law "On state budget of Ukraine for 2017", but the document was not definitely adopted by the Verkhovna Rada.
Comments
comments