Kamensky police paid tribute to the leadership for the great place of duty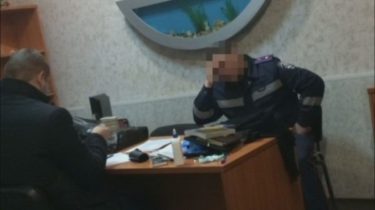 Kamensky police paid tribute to the leadership for the great place of duty
Money
Today, 12:05
1 of 3

© Press service of the SBU

1 of 3

© Press service of the SBU

1 of 3

© Press service of the SBU
© Press service of the SBU

© Press service of the SBU

© Press service of the SBU
Every COP demanded on average one and a half thousand hryvnia.
In the Dnipropetrovsk region, the leadership of the patrol police demanded money from his subordinates for the "best" allocation of duties.
It is reported by the SBU.
In particular, bribery has condemned the leadership of the division of patrol police Kamensky in the Dnipropetrovsk region.
The major and the senior Lieutenant of police within three months, extorted money from nearly 30 subordinates, every month they got every COP in a half thousand hryvnia.
Major was detained in the office when receiving "tribute" from one of his subordinates.
During a search of the premises police found more than 30 thousand hryvnias and records the systematic generation of money.
The police is already reported about suspicion and the measure of restraint in form of detention.
See also: In the Lviv region head of service centre of the Ministry of interior got burned on a bribe
We will remind that from the Nikolaev officers of the patrol police burned on a bribe. As it turned out, the police demanded from the local money for the return of previously seized the car and the certificate of registration.
Comments
comments